Learn more about the Indigenous Studies Working Group, its aims, and its members. We welcome new members from any and all backgrounds.
Join Us!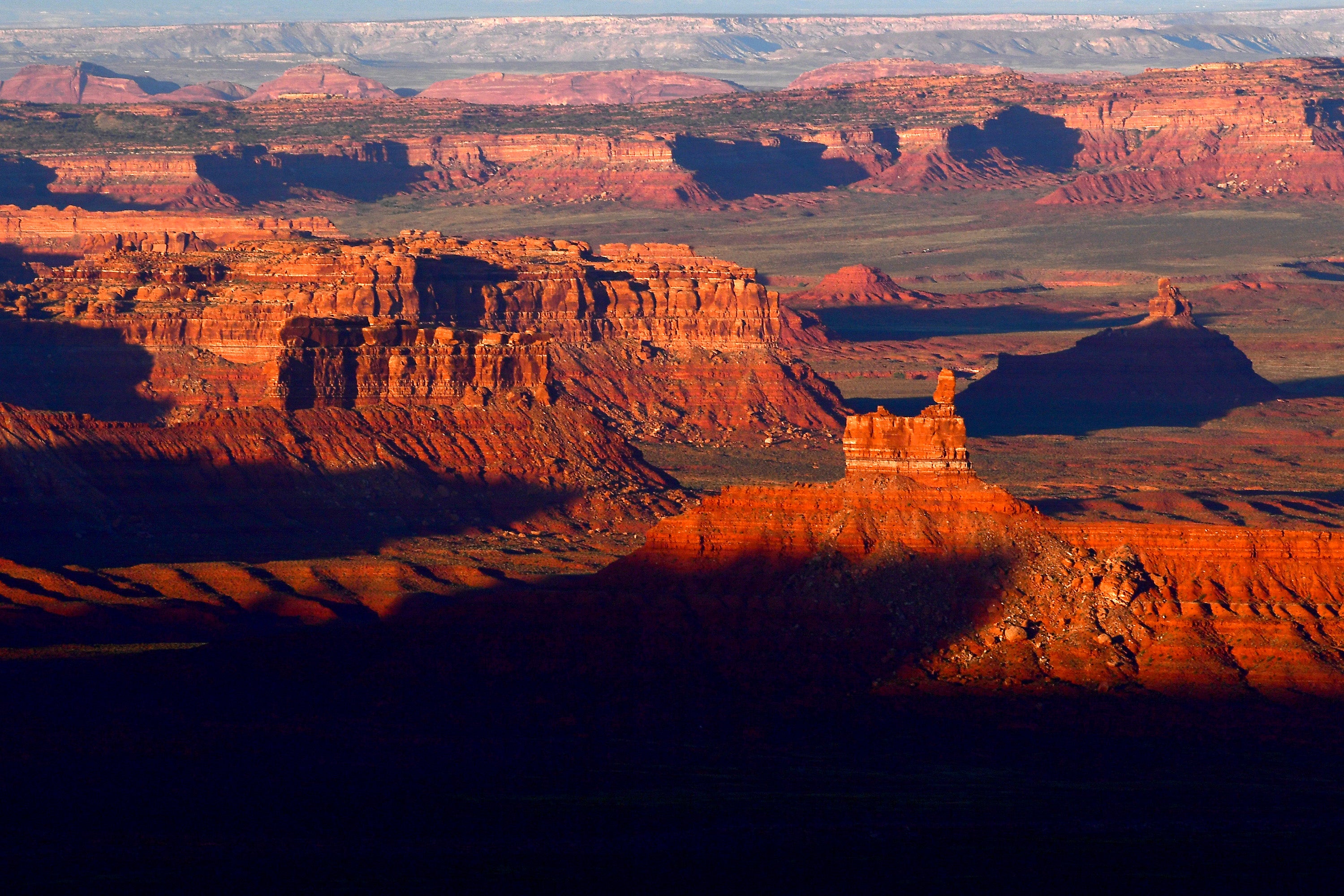 Welcome
Marjorie Mandelstam Balzer, (Anthropology, Berkley Center); Bette Jacobs (Law School, O'Neill Institute for National & Global Health Law)
The Indigenous Studies Working Group of Georgetown University gathers together colleagues and students interested in the field of Indigenous Studies. We promote greater respect, awareness, and collaboration with Indigenous peoples in our region, in the United States, and across the world. All with serious interest in Indigenous peoples are welcome here.
We honor the Indigenous peoples whose land became the Greater Washington area, especially the Piscataway, Anacostank, Pamunkey and others. The Biden administration has declared Oct 11 Indigenous Peoples' Day, as have many states and over 130 cities, including Washington D.C. Viewers are welcome to weigh in on debates about Columbus Day and Columbus statues. On climate change, international Indigenous leaders have become "guardians of the future" and are helping save forests. Native American month is November, a time to reflect on painful legacies. Association of Indigenous Anthropologists (AIA) (new window) recommends readings and reminds us there are 574 federally recognized tribes (new window) in the United States. Historically, about 500 distinct Native languages (new window) were spoken in North America. Currently, Ethnologue lists 245 indigenous languages in the United States, with 65 already extinct and 75 near extinction (new window) with only a few elder speakers left.
An international map for Indigenous locations is a "work in progress" without legal boundaries. It provides a sense of the range of lands and names of Indigenous peoples. NPR published an Americas historical legacy variation map to honor Indigenous Peoples' Day 2022.
What is Indigeneity?
Indigenous peoples—also known as native or aboriginal peoples—identify themselves as the original inhabitants of their home regions. Indigenous groups today are actively protecting, defining, and transforming their own identities in the context of centuries of colonization, forced assimilation, and genocide. The concept of indigeneity and the suffering, survival, and resilience behind it are in need of exploration. Our network is a growing work in progress, and both faculty and student interest at Georgetown is strong. Our members include faculty from several departments and across Georgetown schools in the main campus and Law School. They also include students from councils (CISA and NALSA) on both campuses.
Why do we need a network?
Today's university- and country-wide soul-searching concerning misunderstandings about race, the fluidity of identity, and the construction of ethnic group solidarities benefits from adding the dimension of Indigenous studies to the mix of Georgetown's diversity-oriented events and courses. While our campus is rightfully engaged in heightened awareness concerning race, ethnicity, gender, nationalism, and identity, Indigenous peoples are often marginalized—if not getting lost—once again. We need a better framing for students and faculty in the campus community to benefit more systematically from consciousness-raising concerning issues of Indigenous identity, rights, legacies, and (re)vitalization. We hope that this website can become a forum for discussion of issues that are crucial to Indigenous communities. Casa Latina is hosting Indigenous activities, and the Campus Ministry provides space for smudging and meetings. Please check their site and the Circle of Indigenous Students' Alliance CISA for updates.
Relevant courses:
Applications are due soon for 2024 GU Study Abroad in Cusco, Peru: Indigenous Peoples and Globalization – School for International Training SIT Peru: Indigenous Peoples & Globalization
Melinda González is a Puerto Rican cultural anthropologist and poet whose courses include environmental justice issues for Indigenous peoples.
Shelbi Nahwilet Meissner (Luiseño/Cupeño) has left our Philosophy Department to take an exciting new job at University of Maryland creating an Indigenous Studies Lab. As a key to developing GU course offerings and helping Indigenous students, she will be sorely missed.
Bette Jacobs teaches in a Spring cycle her Indigenous Health Law and Access to Health Care (new window) .
Stay posted for relevant School of Foreign Service courses. "Treaties between Sovereigns: An Overview of American Indian and US Relations" was taught by Prof. Charles F. Sams III (Umatilla) and Prof. Stan Thayne Sp. 2021.
Cinthya Ammerman, recipient of the prestigious ACLS Emerging Voices postdoctoral fellowship, was 2021-22 faculty in Georgetown's Humanities Initiative. From Mapuche territory in Chile, her research compares the interconnected colonization of Wallmapu (Chile) and California Native territory.
CULP 375 "Indigenous Peoples, Conflict and Resilience" team-taught by Marjorie Mandelstam Balzer (new window), Faculty Fellow Berkley Center (balzerm@georgetown.edu); Bette Jacobs (new window), Distinguished Professor of Health Administration (Bette.Jacobs@georgetown.edu)
CULP 375 Syllabus
CULP 375 "Indigenous Peoples, Conflict and Resilience"
What is Indigeneity? What can we understand about resilience among peoples who maintain their distinct identities with a place of origin and their associated bonds and traditions in the face of conquest and colonization? This course enables broad examination of issues facing indigenous peoples, with particular experiential study of tribes in the Western Hemisphere. Opportunities for deep dive learning about indigenous groups in other places of special student interest are provided. Native communities process various kinds of globalization, marginality and colonial legacies with different degrees of self-determination, land-based sovereignty, dispute and resistance. While indigenous peoples may be lumped together as the "fourth world," their social, economic, political and cultural revitalization conditions vary widely in "glocal" contexts. Activist efforts at various levels of local, regional, state and global interactions reveal case studies of progress and on-going tensions. We debate U.N. statements on indigeneity, U.S. federal or state recognition variations, and concepts of identity within First Nations communities. The course is designed to enhance student understanding of multi-disciplinary, practical, ethical and human rights synergies within indigenous studies. An important focus is on student direct experience with indigenous organizations, in partnerships for mutual benefit and learning. Particular attention is paid to American Indian communities, with international comparisons. Hot issues where student participation may be welcome include ecology protest; health services; legal groundwork for sacred lands claims, Native American Graves Protection and Repatriation Act (new window) [NAGPRA] logistics, language revitalization and prison justice. The course builds on and is interactive with our indigenous studies website: https://indigeneity.georgetown.edu. (new window)
Eligibility: The class is open to undergraduates in SFS, especially CULP, and Anthropology, with no prerequisites, just enthusiasm. Students from other departments and centers are also welcome. Students interested in Community Based Learning (CBL) and Georgetown's Diversity initiatives are especially encouraged.
CBL Seminar, Credit and Structure: This 3 credit course fulfills normal SFS and College expectations. It is part of the Center for Social Justice Community Based Learning (new window) faculty cohort that supports active student-community partnerships. Once a week class seminars are augmented by student involvement in community placements for 20 hours per semester. Flexible scheduling enables faculty and CBL staff to help with student projects in specific indigenous-based environments, using outstanding Washington DC area resources for national and international representation. These include the Smithsonian's National Museum of American Indian, National Indian Educational Association (new window) (P St. based), National Congress of American Indians (new window), National Indian Health Board , and more. We anticipate small group placements, with some possible individual arrangements. In the final weeks we share reports on experiential learning as well as engaging in overarching theme discussions and debates.
Advising: Mentoring is tailored to the students who constitute the class. While most advising is done in person, some communication can be through zoom, skype, and other interactive tools. Writing Center (217a Lauinger) http://writingcenter.georgetown.edu (new window) use is encouraged.
Grading: Grades are based on a combination of class participation (discussions and debates) [30%], a short essay due just after Spring break [10%], a 'research and experience' report in the class [20%], and a finale paper that incorporates class themes and the community project [40%].
Readings and films: Most readings will be articles, documents, or chapters in books, not whole books. Electronic versions will be available for many assignments. Together we will augment and update the recommended reading and film lists on our https://indigeneity.georgetown.edu (new window) website. Student contributions relevant to community projects are especially important. A few core yet diverse books or parts of books are required for shared interpretations. These include:
Brown, Michael 2003 Who Owns Native Culture? (new window) Cambridge: Harvard University Press. [+ Brown's supplemental teaching materials.] 0674016335 paper [Chpts 4, 5, 6, 8.]
Deloria, Vine, Jr. 2003 God is Red (new window). Golden, CO: Fulcrum. 30 th anniversary edition. [Chpt 3, 16.] 1555914985 paper. [Note also his classic Deloria, Vine [1969 or later] Custer Died for Your Sins (new window). U. of Oklahoma.]
Erdrich, Louise 1998 The Antelope Wife (new window) New York: Harper Collins. Novel. [Note also LaRose (new window). 2016 Harper, especially 187-202.]
La Duke, Winona 2015 Recovering the Sacred: The Power of Naming and Claiming (new window). Chicago: Haymarket, 2nd edition. [Note also Last Standing Woman (new window) 1997 or other editions.]
Simpson, Audra and Smith, Andrea, eds. 2014 Theorizing Native Studies (new window). Durham, London: Duke University Press. [Especially Intro, Chpt. 10 (Vera Palmer)] 9780822356790
Suzack, Cheryl 2017 Indigenous Women's Writing and the Cultural Study of Law (new window). Toronto: University of Toronto Press. [Especially Intro, Chpt. 3 and 4].
Tidwell, Alan, Zellen, Barry, eds. 2016 Land, Indigenous People and Conflict (new window). New York: Routledge. [Intro, selected chapters.]
At American University, courses on indigeneity are taught by Elizabeth Rule (Chickasaw) and Buck Woodard.
At George Washington University, the AT&T Center for Indigenous Politics and Policy (new window) has closed.
___________________________________________________________________________
SCHOLARSHIPS & RESOURCES for Native American and Alaskan Native Students:
https://earthjustice.org/office/tribal-partnerships; https://www.edumed.org/financial-aid/native-american-students-scholarships-resources/ (new window). Soul of Nations lists fellowship opportunities. See also Tribal Technical Assistance Opportunities Available (new window). Center for Native American Youth (CNAY) of the Aspen Institute has opened Champions for Change applications (new window). National Congress of American Indians has entrepreneur opportunities. See also a student guide for college resources.
---
News and Events
For Indigenous perspectives, see Native News Online.
School of Advanced Research in Santa Fe is featuring Harvard's Philip Deloria "The Year the Stars Fell" Wednesday, September 27 1:00pm mountain time zone with an online option.
International Indigenous Women's Day is celebrated Sept 5. For profiles of leaders, see https://mailchi.mp/culturalsurvival.org/iiwd2023?e=9ca11f421b / https://www.culturalsurvival.org/ . This day is commemorated in honor of Aymara warrior Bartolina Sisa who in 1780, along with her husband Túpac Katari, led an important part of the Aymara-Quechua rebellion against the exploitation and abuse of Spanish colonizers in Peru.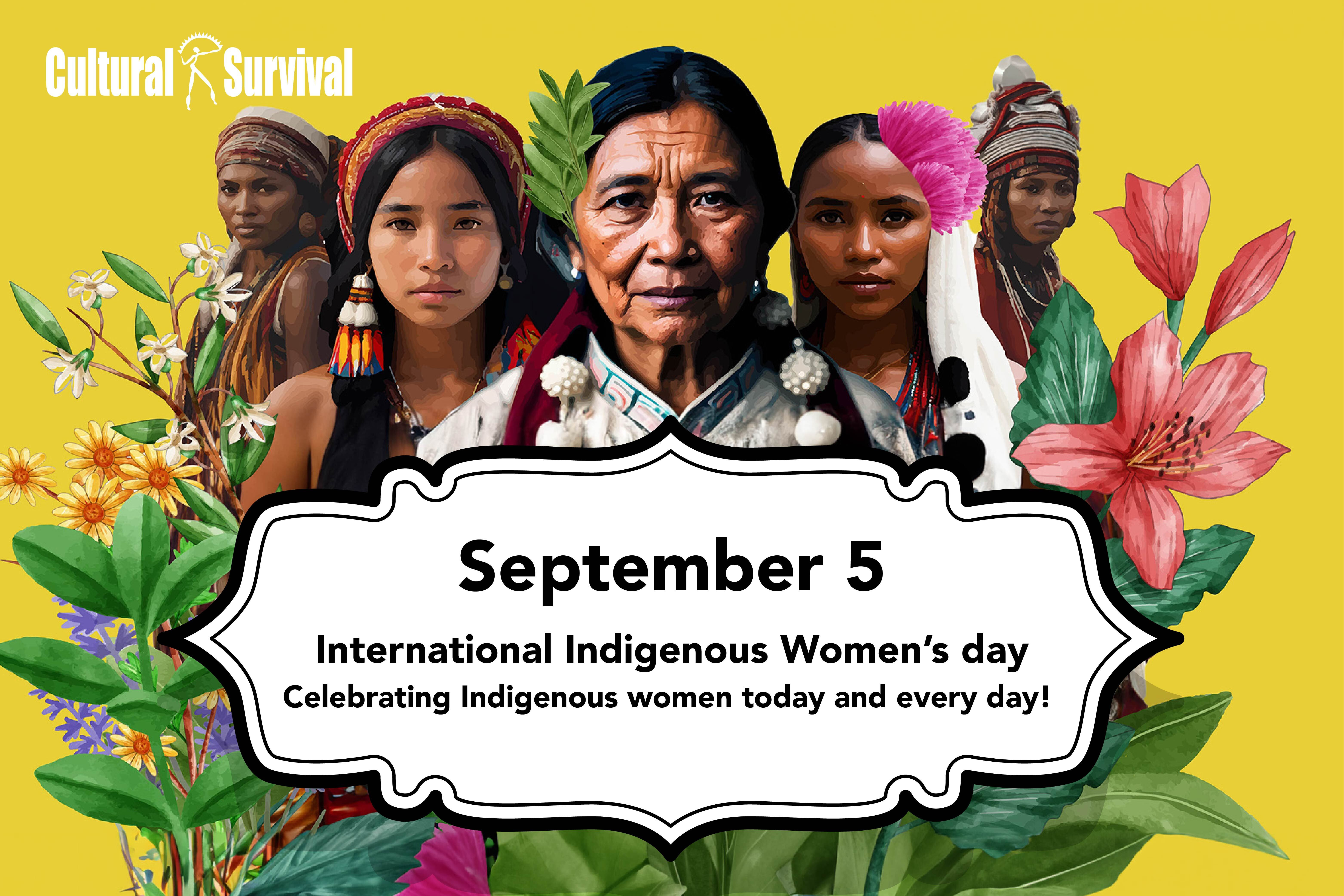 See the impressive obituary of Ada Deer, first woman to lead Bureau of Indian Affairs.
Australia has a controversial upcoming referendum to recognize Indigenous in its constitution.
Hawaiian Fire Disaster in Maui and Indigenous responses are in the news.
Congresswoman Deb Haaland (D-New Mexico), head of the Department of Interior (Deb Haaland Is Sworn In As Interior Secretary), continues to make news with a 2023 healing campaign to listen to communities seared by boarding schools. Brookings provided perspective on her appointment. See also her 2021 UN address and her dialogue with Joy Harjo. https://www.washingtonpost.com/lifestyle/2023/07/17/deb-haaland-road-to-healing/.
Georgetown University is co-sponsoring in October 2023 the forum on Faith and the Family: Propagating and Preventing Child-Family Separation Across Time and Context (new window). A special section on Indigenous histories is planned.
The U.S. Supreme Court upheld the Indian Child Welfare Act June 15, 2023.
Elizabeth Rule's 2023 book Indigenous DC (GU Press) is out! See also the app.
A beautiful Graduation Ceremony for Indigenous Scholars was on May 19. Congratulations Class of 2023, and Professor Shelbi Nahwilet Meissner (Luiseño/Cupeño) for organizing it.
Round House Theater featured Mary Kathryn Nagle's On the Far End, Directed by Margot Bordelon April 1 – May 7, 2023 | World Premiere and Dynamite Performance!
Winner of 2023 DC International Film Festival:
Art Events: American University's Katzen Arts Center hosts Madayin: Eight Decades of Aboriginal Australian Bark Painting from Yirrkala 2/4-5/14. Festival 3/31, 4/1 ; Metropolitan Museum of Art, NYC, hosts The Lives of the Gods: Divinity in Maya Art through 4/2. Shaped by the Loom: Weaving Worlds in the American Southwest (new window) Bard Gallery, NYC 2/17-7/9. Filmmaker and artist Sky Hopinka was featured on PBS 1/23.
On April 17-28, 2023, the 22nd session of the United Nations Permanent Forum on Indigenous Issues (new window) (UNPFII) took place. This year's session theme focused on "Indigenous Peoples, human health, planetary and territorial health and climate change: a rights-based approach."
Land Back and Sacred Land News: Arizona disputed land at Oak Flat threatened with copper mining; Rappahannock of VA reclaims parcel of Fones Cliffs homeland. Contested buy backs in Cayuga territory, upstate NY. Bison hunt news.
Smithsonian 2023 Mother Tongue Film Festival 2/ 23-26, theme Coming Home. Smithsonian's Mother Tongue Film Festival is annual. See Mother Tongue Film Festival (new window) 2/17-3/4 2022, part of their Recovering Voices (new window) program. https://mothertongue.si.edu/ (new window) Some films remain open access.
Workshop for GU Collaborative on Global Children's Issues: Indigenous Communities, Intergenerational Knowledge, and Climate Change in Mesoamerica (new window), 2/ 28, 9-10:30 am.
Woodrow Wilson Center Nature-Based Solutions and Indigenous Voices: Lessons from Canada 2/28 1-2 pm.
George Washington University lecture by Dr. Nelson Moldonado-Torres. "Living and Thinking Under Catastrophe: Combative Decoloniality as Counter-Catastrophe Thinking, Creation and Action." 2/6 6-8.
GU talk: "Settler Ableism, Settler Nationalism: Disability and Land sovereignty" with Professor Jess L. Cowing (Wooster) 2/6, 3-4:30 pm HFSC Herman room and zoom. tinyurl.com/Feb6dsevent (new window)
"Divine Feminine Medicine: A Virtual Discussion" 2/13 7:30 pm. www.mosketuhconsulting.com
CISA hosted a wonderful poetry, song and art performance in Riggs 11/28/2022 6-8.
National Museum of the American Indian presented Native Cinema Showcase 11/18-25/2022.
GU's Kyle Shernuk spoke to the Asia In Depth history seminar on "Indigenous Taiwan: Ethnographies, Identities, and Oceans for the 21st Century" 11/17/2022.
NALSA hosted a book talk on the Native American Indian Movement and Leonard Peltier at GU Law School 11/14/2022. Raising Indigenous Voices in Academia and Society blended conference was held 10/20-25/2022. For information contact: neyooxet.greymorning@mso.umt.edu .
Brazil's Indigenous peoples and their protected areas have been under siege in the Amazon, as 2022 murders have revealed. Luiz Inácio Lula da Silva [Lula] won Brazil's 2022 presidential election. Brazil's National Museum, burned in 2018, is being revived with Indigenous leadership. Chile's 2022 draft constitution features environment and Indigenous rights.
Pope Francis's reconciliation project for Canada's First Nations was launched with an apology denouncing "catastrophic" residential schools. Some claimed too little too late, while others wept.
Reparations for the "stolen generations" of schoolchildren taken from their families in Australia were announced. Australia's National Anthem was edited to become more inclusive. Aboriginal history is reflected in the obituaries of activist Rosalie Kunoth-Monks and singer Archie Roach.
Cultural Survival's 2022 panel "Securing Indigenous Rights in the Green Economy" is available on youtube. See also their "call to action" for 2022, and their coverage of COP 27.
Some of Russia's Indigenous people have been speaking out against the war in Ukraine. Russia's Indigenous are being mobilized to fight in Ukraine at higher proportions than their demography warrants. New laws in Russia further restrict who has the right to be defined as Indigenous. For perspective, see M. Mandelstam Balzer's recent book. Her book talk was April 2022 for GU's Center for Eurasian, Russian and E European Studies.
The 15th session for the United Nations "expert mechanism" review of violations of the rights of Indigenous peoples took place in Geneva July 2022. See also http://www.firstpeoples.org/ (new window) .
The US supreme court in 2020 ruled that much of eastern Oklahoma is Indian Country, confirming treaty rights of the Muscogee (Creek) Nation, as well as local Cherokee, Chickasaw, Choctaw and Seminole Nations. The ruling came in a context of heightened societal awareness for rights of BIPOC. Poet laureate Joy Harjo and Lawyer Sarah Deer provided reflections. Ramifications ensued and in 2022 McGirt v Oklahoma was revised with further infringements on tribal self-governance.
Land: Virginia Rappahannock have regained riverside land in historical partnership and Monacans have won a battle to save burial grounds and their historic Rassawek capital. Two Delaware Indian groups, Nanticoke and Lenape, are buying back ancestral lands. Similar movements in California and the mid-west are using Land Trusts to reclaim homelands. Georgia is integrating Muscogee (Creek) tribal lands into plans for Ocmulgee Mounds National Park. Bears Ears, Grand Staircase-Escalante, and Northeast Canyons and Seamounts were restored — great news for the Inter-Tribal coalition of the Navajo Nation and the Hopi, Ute Indian, Ute Mountain Ute and Pueblo of Zuni Tribes that fought for this since 2017.
Indigenous at GU: Anishinaabe Theater Exchange (new window) was at GU for the May 4 opening of the Lab for Global Performance and Politics' annual (new window) "Gathering." Also featured was the play Andares weaving Mayan, Muxe and Wixarika Indigenous myths with current concerns. These exciting events are available on the Lab's youtube. The background panel "How We Go Missing" was co-sponsored by the Racial Justice Institute 4/29 and is available on request. Artist-performer Edward Keith Colston (Tuscarora/ Lumbee) presented in Professor Anita Gonzalez's Cross-cultural Performance class 4/7/22. He is an important local resource: https://www.youtube.com/watch?v=P37HrB5Cwss (new window). Center for Latin American Studies sponsored "Embracing Multiple Visions of Indigenous Education in Latin American Universities: Experiences in Mexico and Peru" 4/4/2022.
Pacific Islanders and Indigenous Peoples Share Their Sacred Values seminar was recorded 2/19/22.
New Zealand Art seminar Bard College 2/22/22.
Indigenous Women Leaders were confirmed for National Endowment for the Humanities (Shelley Low, Navajo/Dine); for National Museum of American Indian (Cynthia Chavez Lamar, Pueblo), and appointed for Indian Health Service (Roselyn Tso, Navajo).
Indigenous activists were in Scotland for climate change workshops and demonstrations. A summary of Indigenous statements and actions is at Cultural Survival.
Energy politics and protest is crucial for President Biden's administration. Demonstrations at the White House pushing for climate action Oct 11-15 joined Indigenous and ecology activists. Organizers included People vs Fossil Fuels. See Winona LaDuke's (Ojibwe) Line 3 pipeline protest explanation; and Chippewa writer Louise Erdrich's plea.
In honor of American Indian and Alaska Native Heritage November 2021, the Census Bureau released new data. Indigenous Peoples' Days and Months call attention to issues but symbolism can be augmented every day.
Archived: Native American Students Newsletter, invite New Recruits
More Information
Archived Event: Missing and Murdered Indigenous Women Symposium
Nov 18, 2019 Intercultural Center Auditorium 6:30-8:30 p.m.
More Information
App Provides Guide to Indigenous DC
Archived: Kennedy Center Day of Indigenous Arts and More
The Kennedy Center's Millennium Stage has free recorded events, often including Indigenous performers.
Online features include Dakota and Lakota youth August 10, 2020.
"Dancing Earth" (April 26, 2019) includes a Piscataway opening blessing on video
More Information
History Making: Representative Debra Haaland (D-New Mexico) on Campus
11/26 and 3/26
Representative Debra Haaland (D-New Mexico) was on Campus March 26, for a forum on "Intersectional Feminism in Congress" and for the symposium "Missing and Murdered Indigenous Women" November 26. She is one of the first Native American women elected to Congress, leading the legislative effort for Voting Rights, the Environment, the $15 minimum wage, and solving the cases of missing and murdered Native American women.
More Information
Indigenous Peoples March in DC
January 18, 2019
On January 18, 2019, the Indigenous Peoples Movement sponsored a march in Washington, DC to bring awareness to the injustices facing indigenous men, women, and children around the world. Co-sponsors included Cultural Survival.
More Information
In The Future
All are welcome to join our mailing list to learn more about new events of interest on the Georgetown campus and in the Washington metro area.
Join the Network
---
Explore our Resources and Other Offerings!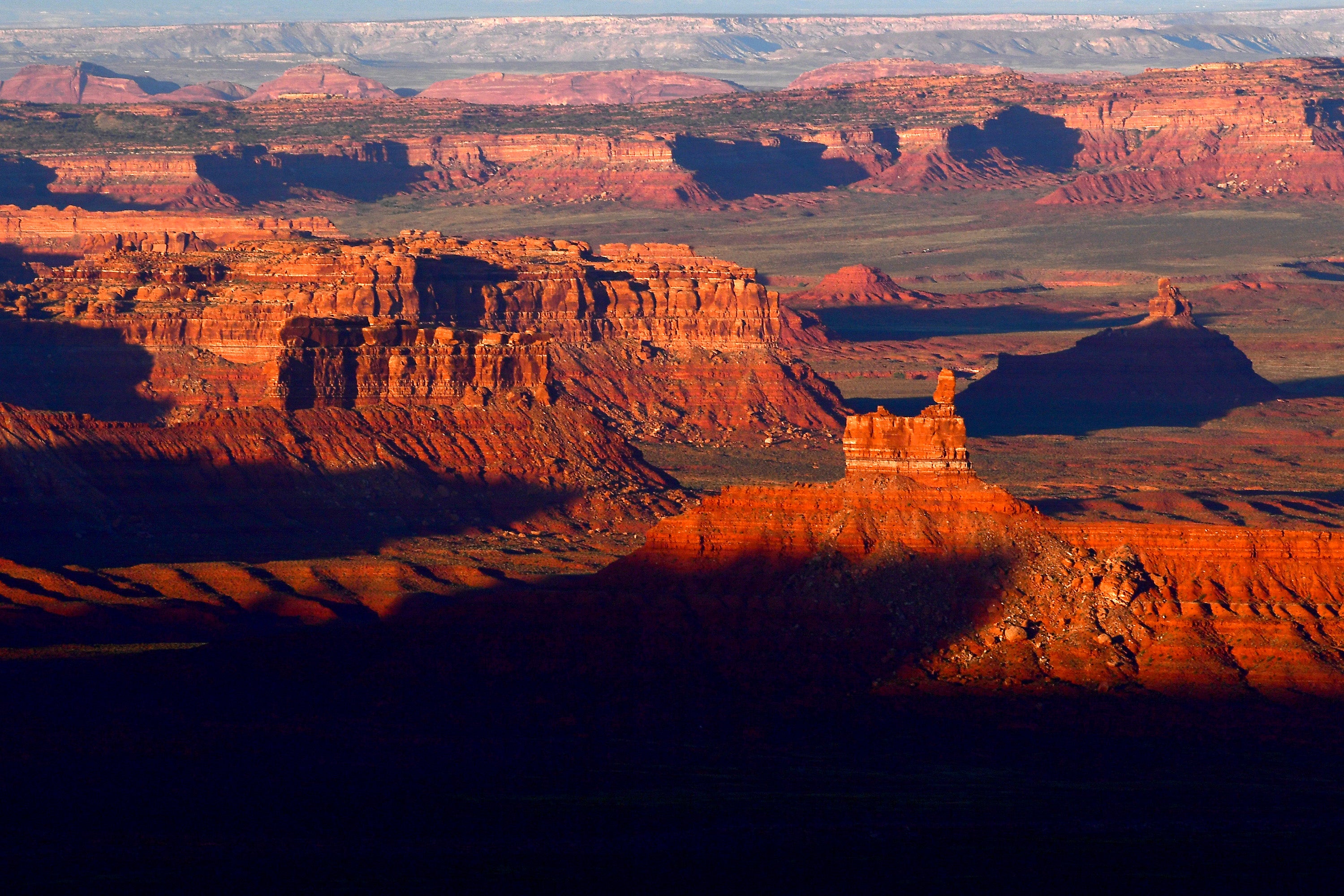 Bears Ears National Monument Controversy
Dr. Bette Jacobs, GULC's Native American Law Students Association, and GULC's Environmental Law Society discussed Public Lands, Sacred Lands, and Presidential Authority.
More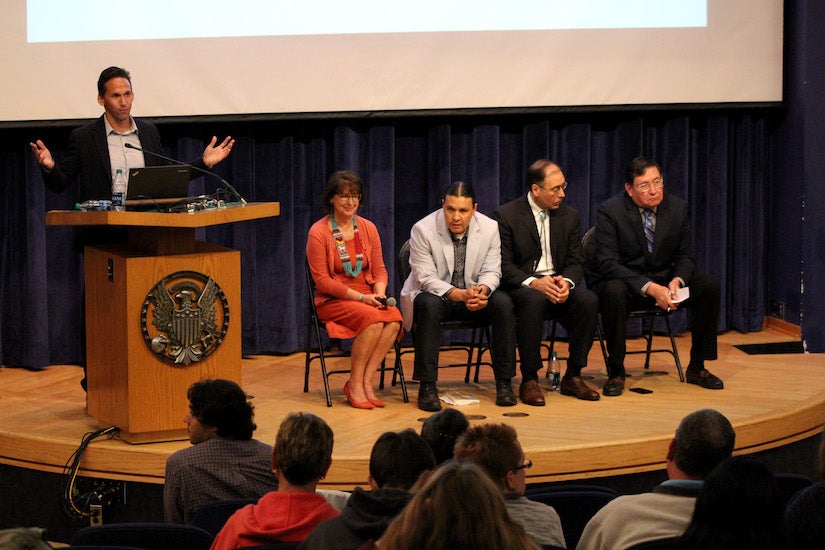 Justice in America for Native Americans
Watch the video of the April 24, 2017 panel and stay current on the Health Law Initiative's continued work on Justice for Native Americans
More