Cultural Expressions
The many faces of Indigenous cultures across the world
News
The composer Raven Chacon (Diné) was awarded the 2022 Pulitzer Prize for music, for his "Voiceless Mass." For a sample and interview, listen to NPR.
The documentary film "Scenes from a Glittering World," featuring Diné youth, was featured on Independent Lens 5/16/2022, and is available through PBS.
For New England's Indigenous communities, Thanksgiving has long been recognized as self-congratulatory myth, an understanding becoming increasingly mainstream. Indigenous History of Maryland was featured at Olney Theater (check for recording) Oct 9, 2021 together with a month-long run of Larissa FastHorse's (Sicangu Lakota) famed satirical The Thanksgiving Play.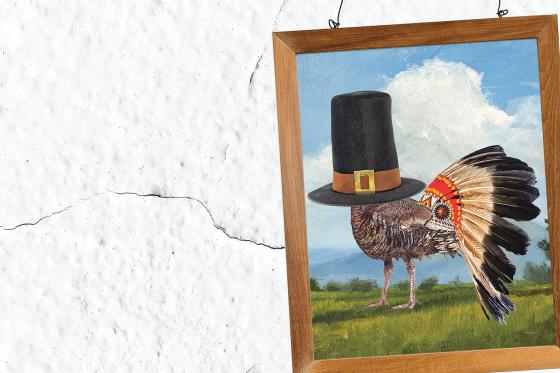 Important Issues of Cultural Appropriation are raised
This Mexican Village's Embroidery Designs Are Admired (and Appropriated) Globally Elisabeth Malkin of the New York Times (November 2019)
The People Making It Are Indigenous, but Indigenous Is Not a Genre Siobhan Burke of the New York Times (January 2019)
Arts
The following lists are intended to introduce visitors to the wide array of different forms of cultural expression within Indigenous communities. Suggestions for expansion are welcomed!
Free Music – McNeir Hall, North Building
March 22, 2019 1:15 p.m. – 2:15 p.m.
GU hosted the La Marvela All-Women DC-based band that highlights the richness of Colombian Afro and Indigenous Rhythms March 22.
More Information
Banner image: Chholing Taha, "Birth of the Universe," 2016. Reproduced courtesy of the artist.